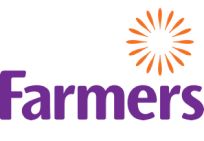 Farmers Automatically Fulfills Millions of SKUs with Quantiful
Farmers is a large and thriving New Zealand-based department store known for its on-trend merchandise. To provide customers a superior in-person shopping experience, Farmers worked with Quantiful to automate sending stock fulfilment requests for stock fulfilment without human intervention. Quantiful's solution also allowed Farmers to automatically replenish more than 1.4 million SKU locations per week across 60 stores.
Keeping In-Store Inventory on Trend
Farmers is owned by the James Pascoe Ltd (JPL). Group, which also owns long-standing jewellery stores across Australia and New Zealand. Successfully meeting New Zealand's need for home and fashion merchandise since 1909, Farmers operates 60 brick-and-mortar locations across the country, as well as an online store. Loyal customers rely on Farmers' one-stop shopping experiences for on-trend products. "Ultimately, serving our customers is our primary goal," said David Lean, Group Head of IT for JPL. "We need to ensure we always have the right stock and the right size and the right product for the customer to provide a much better in-person shopping experience."
Getting Granular for Increased Insight
With the help of AWS Retail Competency Partner Quantiful, Farmers supercharged its demand forecasting. "Because ERP systems use generic rules for every store, you don't get a precise demand profile for any particular store and end up overstocking or understocking," explained Jamie Cormack, CEO of Quantiful. "Quantiful's solution enables the highest possible percentage of SKUs to be systemically replenished based on actual SKU location demand." Quantiful solutions help retailers reduce lost sales, increase stock turn, and eliminate human intervention. Quantiful's solution is powered by artificial intelligence (AI) and runs on Amazon Web Services (AWS). Raw data lands in an Amazon Simple Storage Service (Amazon S3) bucket, then crawlers infer schema and add to the data catalog, triggering AWS Glue jobs to clean the data. Data scientists at Quantiful use Amazon SageMaker for machine learning modeling based on elements such as product type and location. Forecasts are hosted in Amazon Relational Database Service (Amazon RDS), which the Quantiful web app also uses. When users log in to the web app, they're connected to AWS Lambda as a backend handler.
Every Week: 30M SKU Locations and 102M Lines of Data
Near-term forecasts are produced weekly for the replenishment planning and review cycle and, once validated, are transferred into Farmers' enterprise resource planning (ERP) system. The retailer now processes 1.4 million SKU requirements weekly with pinpoint accuracy for bespoke forecasting and replenishment at each location. "Every night, Quantiful ingests more than 102 million lines of data from Farmers," explained Cormack. "Data includes daily sales, stock on hand, and over 200 product attributes per line for use in our proprietary forecasting models." The highly accurate, AI-powered replenishment planning from Quantiful enables Farmers to run less than 5 percent bias on forecasts and deliver stable demand profiles by SKU location.
Automated Replenishment of 1.4 Million SKU Locations
Now that Farmers can accurately predict demand, the retailer is able to simply accept and replenish stock each week—automatically. "Quantiful AI further enhances the productivity of our demand planning team by automatically resetting products and forecasts for 1.4 million SKU locations—working towards 30 million SKU locations," explains Lean.
AI Reduces Errors by 25% and Helps Improve CX
Utilizing Quantiful and Amazon SageMaker, the retailer was also able to reduce forecasting error by over 25 percent. This allowed Farmers to lower inventory totals and save operational costs without compromising product availability. "Data that comes from Farmers is very rich," said Cormack. "One smaller, slow-moving store may require the full range of products to serve a wide demographic versus a large store that may just need a small number of products because it serves a narrower demographic. We're able to optimize our machine learning algorithms to treat stores with the precise degree of demand to determine the required portfolio." Beyond inventory availability, keeping store merchandise on-trend is a proven way for Farmers to enhance a customer's shopping experience. AWS-powered AI also helps Farmers forecast emerging trends. Quantiful automatically selects predecessors that are most relevant to new products and provides an accurate future forecast for them. This takes out much of the time- consuming and often inaccurate guesswork associated with new product introductions.
Subscribe to news and product updates