Spark sharpens iPhone ranging with Quantiful
2021 was one of the most volatile periods in retail history. Not only was the world amid a pandemic that massively impacted supply chains, but Apple also produced one of their best-selling iPhones - the iPhone 13, which caused enormous headaches for mobile phone retailers worldwide.
15%
Improvement in stock turn
25%
Reduction in cost per unit
Executive Summary
Spark is New Zealand's largest communications and digital services company, operating with a single purpose: to help all of New Zealand win big in the digital world. As the incumbent, Spark (formerly Telecom New Zealand) has a significant retail footprint of over 60 stores. It is one of New Zealand's most recognisable high-street brands, having gone through a major rebrand in 2014.
Business challenge
As a multi-brand mobile phone distributor in NZ, Spark has a high SKU count (thousands of SKU locations), a robust e-commerce play and a complex distribution network with multiple distribution hubs.
Customer buying volatility was growing (and continues to do so), and together with economic uncertainty, competition and supply chain disruption, Spark's retail business was experiencing:
Unexpected under and overselling
Extended product lead times
A significantly higher inventory risk
Against this backdrop and a perennial challenge was the risk associated with the new releases of the latest generation of iPhone and Galaxy, collectively representing 80% plus of mobile phone turnover in a year. Getting model and SKU mix wrong when placing launch orders, especially for iPhone, had in the past had a significant impact on working capital and cost of acquisition.
Understanding the real drivers of demand
Spark approached Quantiful to improve its demand and supply balancing, notably to support model and SKU selection for new launches and their ongoing demand. Spark felt that this was an area of significant weakness as supply was often constrained post-launch, and getting ordering right upfront mattered in this scenario.
Spark deployed Quantiful AI software to upload and analyse data from the previous year's sales and combined this data with Quantiful's library of global social data for iPhone, which included buying signals for existing models and insight into the demand for about-to-be-launched models. (It was and remains typical for pre-launch information leaks on the latest device launches, which tend to be quite accurate and garner a lot of commentary from influencers on social platforms.)
Leveraging the power of this data and Quantiful's proprietary AI, Quantiful delivered a rolling 6-month iPhone 13 forecast highlighting the top five demand drivers influencing consumer buying behaviour.
The diagram opposite (top image) shows the top demand driver for the iPhone 13 for its entire lifecycle. Social data played a significant role in identifying colour and specific colour preferences (bottom image), which heavily influenced buying behaviour. Other device features such as memory, battery life and screen size were also influential and ranked in the top five demand drivers later at points in the product lifecycle. Based on this insight, Spark built and implemented a new set of 6-month purchasing plans designed to marry demand and supply better.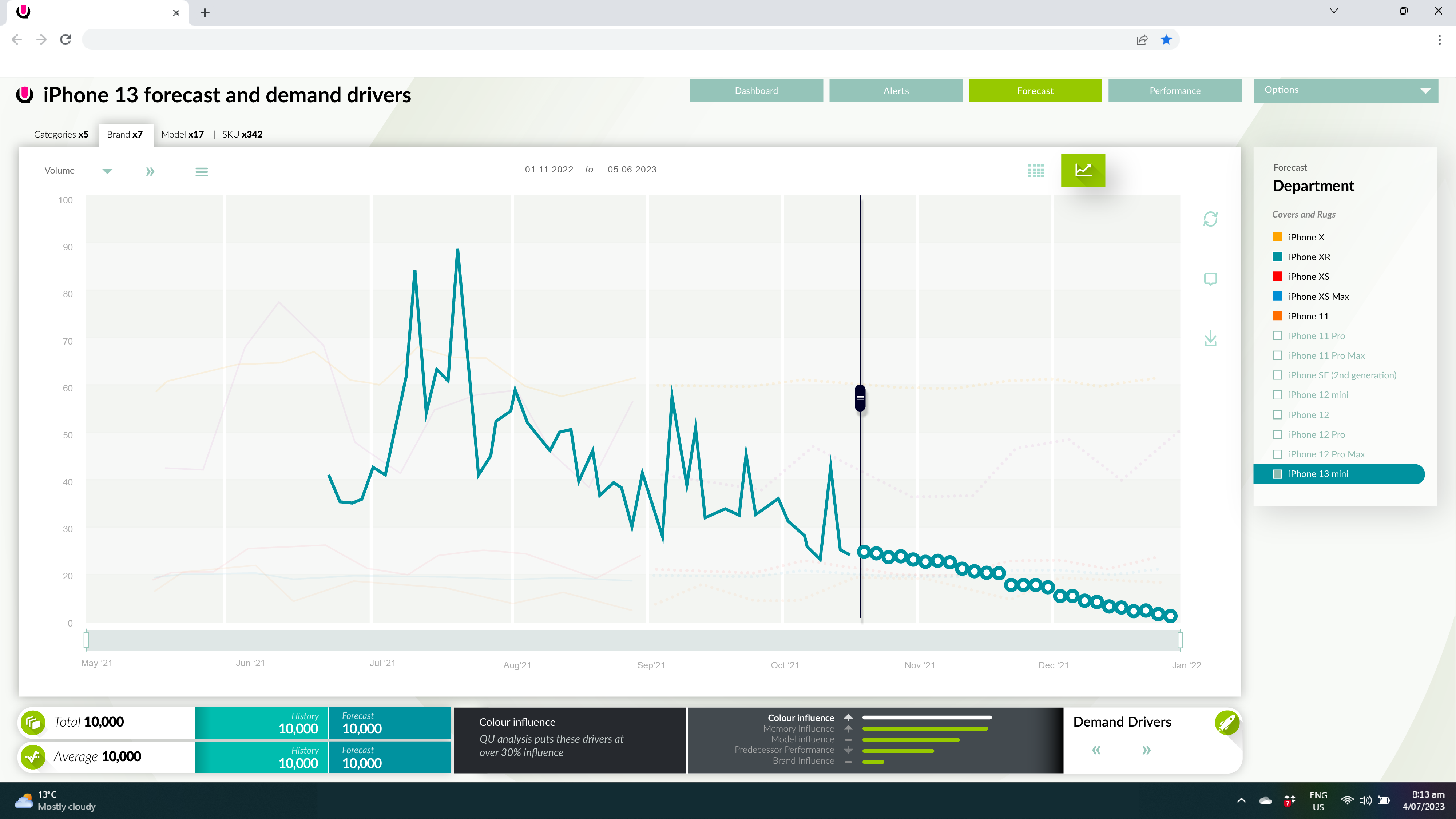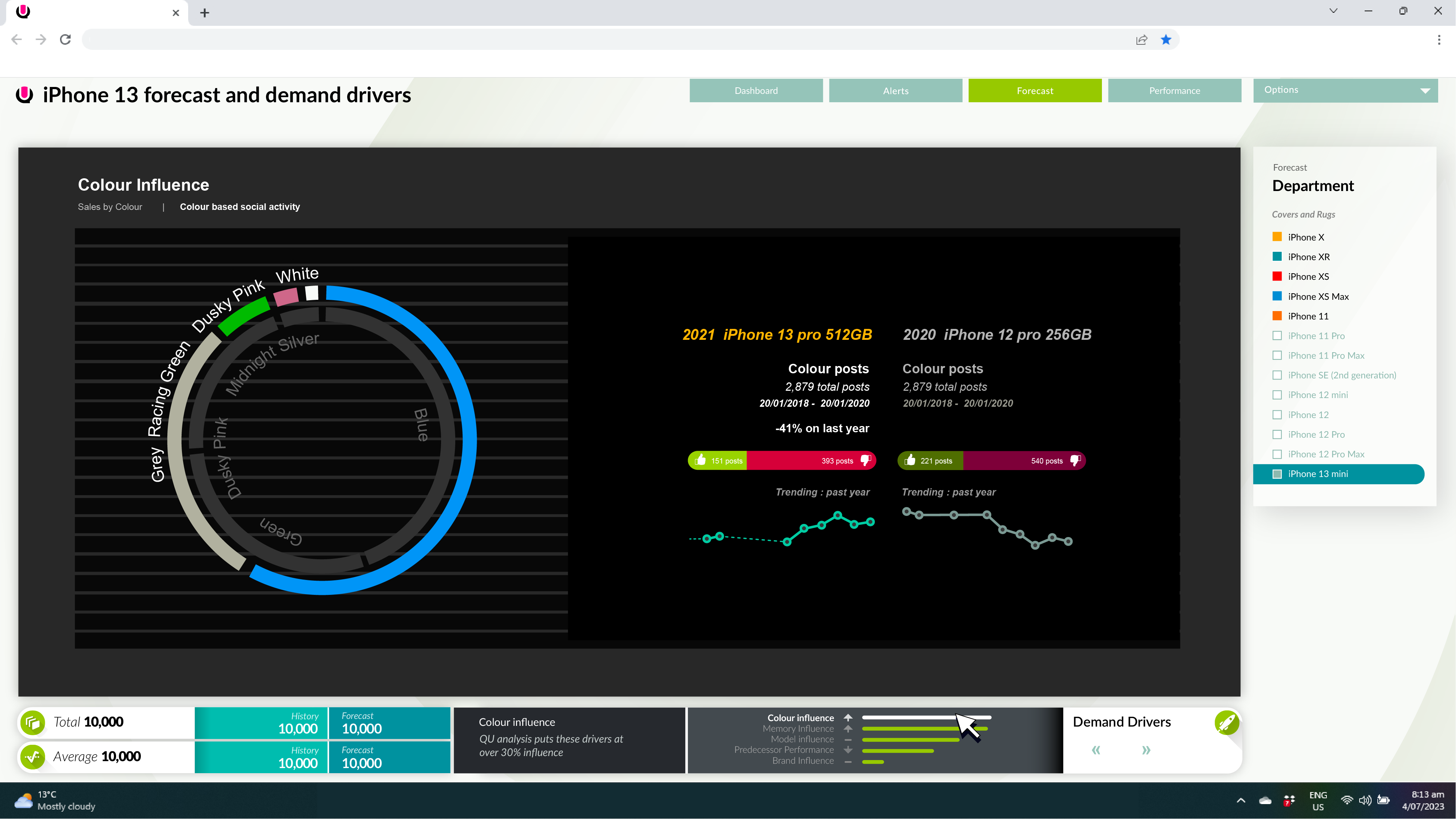 Positive Business outcomes
The forecasts put together by Quantiful turned out to be signficantly more accurate than the previous Excel-generated forecasts.
Over the course of the following 12-months, Spark improved a range of S&OP metrics including:
average 15% improvement in stock turn

increased revenue from superior stock availability

better visibility trends impacting demand

forecast accuracy improvement

improved stock availability to over 97%

25% reduction in cost per unit
Subscribe to news and product updates