Major shifts toward plant based substitutes for meat are already having a big impact on many NZ businesses.
4 min read
31 January 2019
Health, animal welfare, the environment - no matter the reason, the plant based trend is here to stay. You may have noticed plant based eateries popping up left, right and centre as more restaurants and retail outlets adapt their menus and shelves to cater for their vegan or plant based clientele. Environmental concerns, animal welfare concerns and health concerns are more prevalent than ever and as a result, many people are turning to a plant based diet.
Medical journal, The Lancet states that for environmental and food security reasons a global reduction in meat consumption will be necessary by 2050 and just last month the new Canada Food Guide was released, urging Canadians to adopt more plant based sources of protein.
Quantiful found that in New Zealand, during the period November 2015 to November 2018, among all diet conversations, Veganism was the topic with the largest conversation volume across all social platforms with a share of voice (SOV) of 43%. On one of the major platforms, Twitter, after re-adjusting the SOVs to balance louder voices, vegan mentions still captured almost half of Twitter conversation (46% SOV) during this period.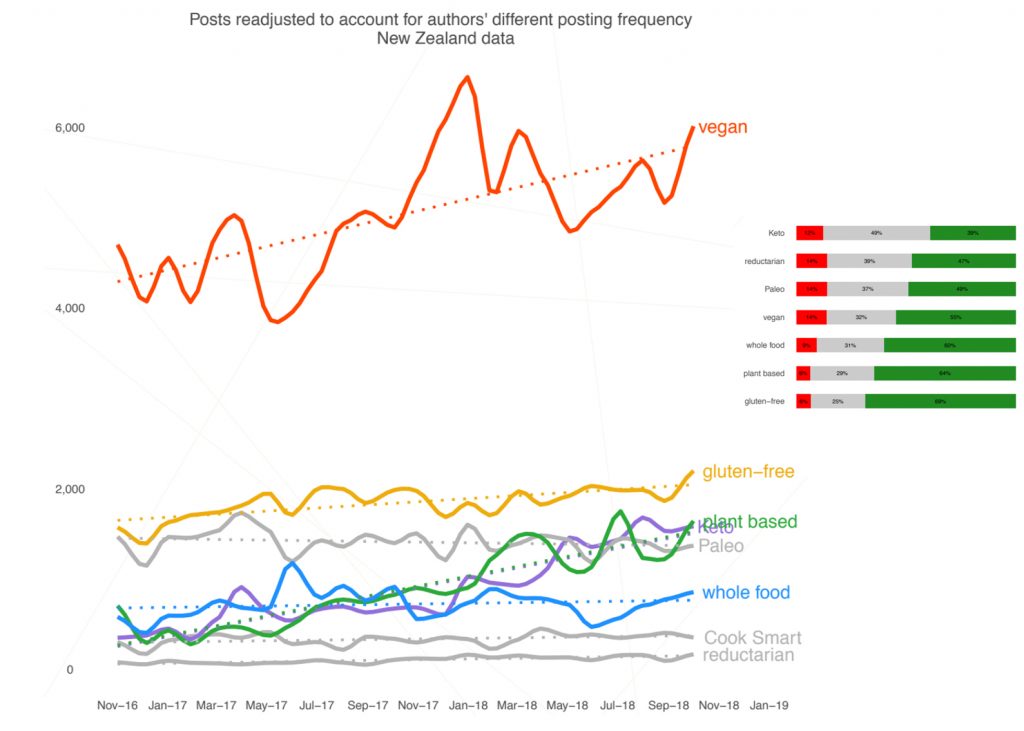 Despite "plant-based" being the new kid on the block compared to more mature appellations such as Veganism and vegetarianism, in Q4 of 2017 plant-based overcame most dietary movements in scope (including diets that are agnostic to the use of animal products like Keto). In addition, the positive social sentiment surrounding the terminology 'plant-based' has increased by more than 100% since December 2015.
Between 2016 and 2019, plant based diets led the growth in diet conversions with a compound annual growth rate (CAGR) of 85% with Keto and Veganism having CAGRs of 42% and 34% respectively.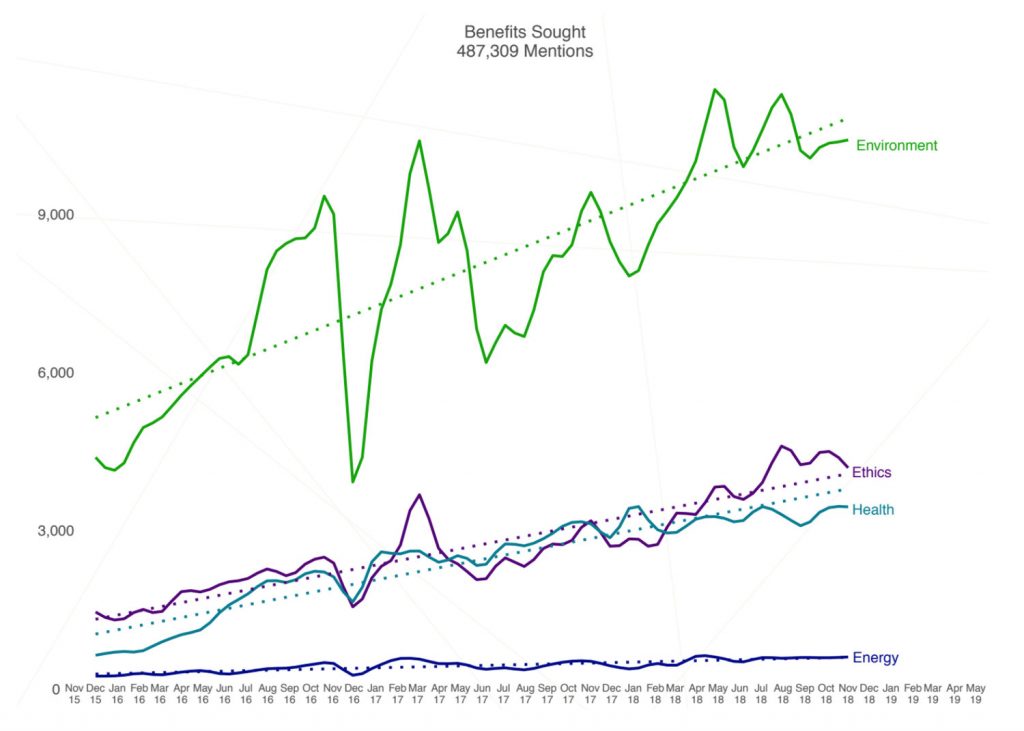 Reasons for the plant-based movement stem from 3 main categories - environmental, health and concern about animal welfare. Quantiful found that when discussing plant based diets, consumers showed the strongest emphasis on environmental reasons however when analysing the overall social sentiment surrounding the 3 categories (between November 2015 and November 2018), environmental held the strongest negative sentiment. This is due to these conversations often being centred around the negative impacts that the dairy industry has on water pollution, land use and climate change.
Conversations around animal welfare and health on the other hand, skewed more positively as discussions were more likely to be centred around the plant-based products themselves and the positive impact they have on animal welfare and health.
A recent Forbes article highlights that globally, meat substitute sales between 2012 and 2017 rose on average 9.3% which is more than three times the average rate of processed meats. As well as noting that Euromonitor listed "conscious consumer" as one of 2019's top ten global consumer trends.
Beef and farming industry groups in America are fighting to ban the use of the word 'meat' describing plant-based and lab grown meat alternatives. A New York Times article, published on Saturday, says that legislators in more than a dozen states have already been persuaded to make illegal the use of the word meat being used in relation to burgers and sausages. According to market research firm, Euromonitor International, sales of plant based meat substitutes increased 22 percent, to $1.5 billion last year.
There are many start-up companies getting close to being able to produce lab grown meat using actual meat cells grown in the lab. Although not yet commercially viable, farmers are getting increasingly concerned that this could be become a low cost alternative to which consumers will turn. The New York Times article quotes Mr Dinkage, a Nebraska rancher saying "Just think what it actually costs eventually in a lab as compared to running a ranching operation," he said. "It would be a lot cheaper and that puts me out of business."
Most of America's large meat companies are staying out of the debates surrounding the usage of the term 'meat'. Some of them, including the likes of Tyson and Cargill, have acknowledged this as an opportunity and have already made investments in lab-grown meat start-ups.
The food industry is undoubtedly experiencing disruptive pressures in favour of ingredients of plant based origin. So what does this mean for your business? This growing movement toward plant-based diets is obviously rich in opportunities for businesses which can cater to consumers with these preferences but perhaps not so obviously also to organisations who have existing animal and animal derived brands and products. The old adage that for every action there is often and equal and opposite reaction was never more true here.
What is most important is, of course, to thoroughly understand your consumer, what they want, why they want it and then to adapt your business plan to satisfy your customers changing behaviours. In fact, changing consumer behaviours can be an exciting opportunity for growth and a key opportunity to stay ahead of your competition.
Quantiful are already helping many companies in the meat, dairy and retail sectors to understand their consumers' changing behaviours and to accurately plan, strategise and forecast their future in order to ensure it remains successful and lucrative.